Thank you for trusting us with your remote access security needs. We aim to make set-up as easy as possible, but if you experience any difficulties after following the instructions below, please see Troubleshooting below.
This service includes a single-location vTPN Security Service license, a VeeaHub Smart Edge Node with 4G LTE Wireless WAN capability and unlimited Wireless WAN data, which may be used for full-time wireless broadband or as a backup/failover solution for interruptions in wired broadband service.
This Quick Start Guide describes how to set up your VeeaHub and start using your vTPN Security Service with Wireless WAN. Each section describes the steps to set up your vTPN service, and then you will be ready to work.
---
Before you start
Go to your confirmation email and find your Wi-Fi connection name (SSID) and password for vTPN.
Confirm that you have 4G cellular service, also known as Wireless WAN.
---
Your VeeaHub at a glance
What's in the box?
You are provided with a VeeaHub with the letter L at the end of the model number (VHE09L). The unit includes a cellular SIM and antennas for cellular service.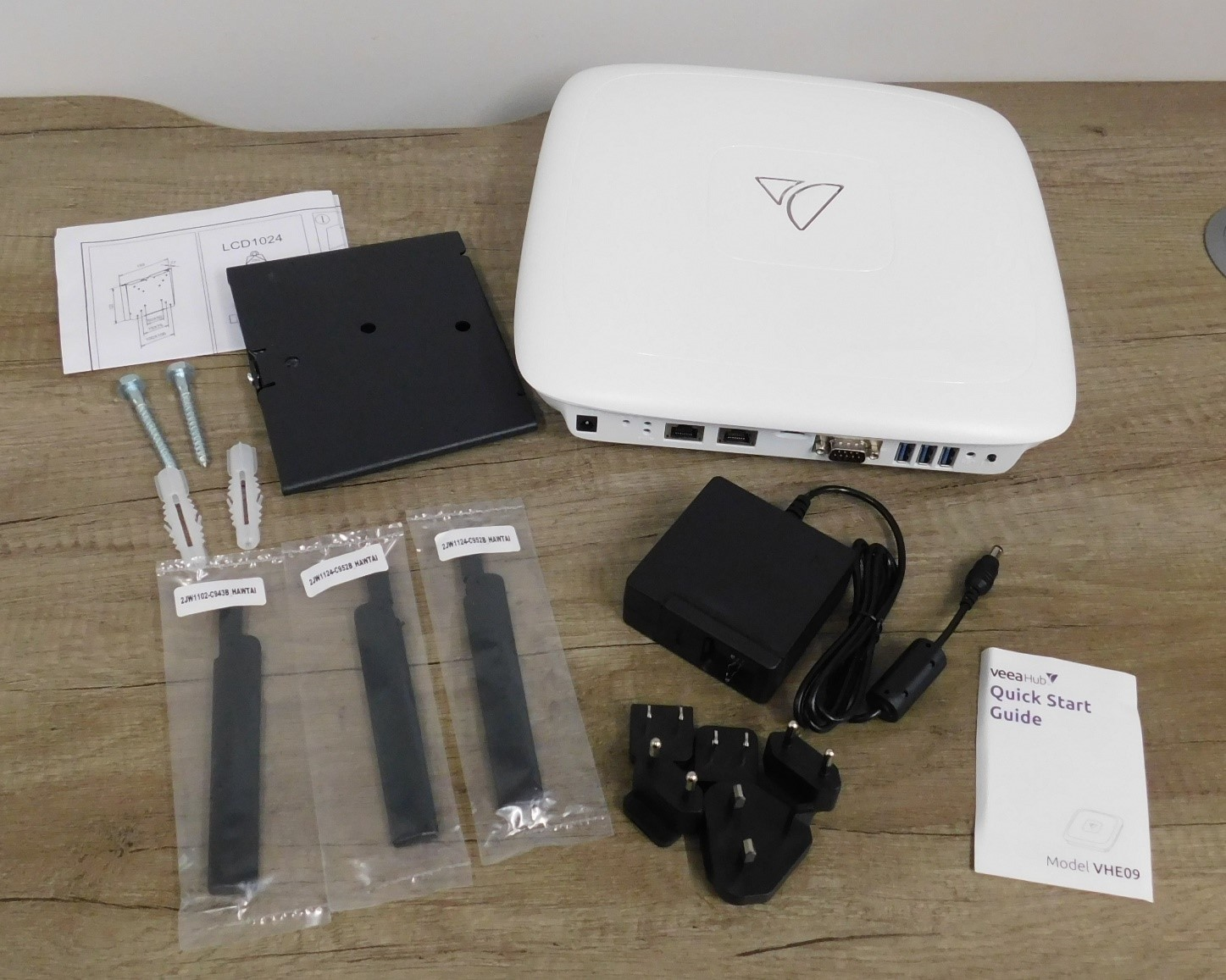 1 × VeeaHub unit
1 × Power adaptor
5 × Country-specific adaptor plugs
1 × Wall mount bracket with screws
1 × Bluetooth antenna
2 × LTE (cellular) antenna with plugs (VHE09L and VHE10L only)
1 × 100mm x 100mm VESA mounting plate with instructions
1 × Quick Start Guide
For mounting instructions, please see VeeaHub VHE09/VHE10 Mounting Plate Instructions.
---
VHE09/VHE10 Connections and Lights
---
Please note
Do not power up your VeeaHub until step 3.
Place or mount your VeeaHub on a flat surface with room (about 3 in/7.5 cm) for air to circulate around it.
The SIM card included with your VeeaHub is visible in the MicroSIM slot (see the diagram). Do not remove or replace the SIM card. The SIM can be used only with Veea's services.
Retain all packaging and materials until after your 30-day trial period is complete.
---
Connecting the antennas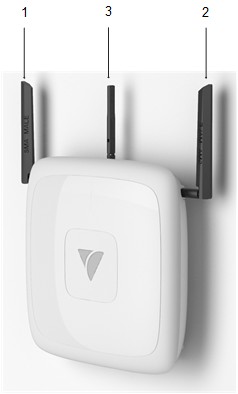 In the picture, items (1) and (2) are the cellular antennas and item (3) is the Bluetooth antenna. Make sure that both cellular antennas are connected and fully screwed in to obtain the cellular signal.
Be sure to connect the antennas to the correct connectors, otherwise damage can occur.
---
Connect your VeeaHub to the Internet
If you are using the cellular network as your Internet connection, do not connect anything to the VeeaHub just yet. Position your unit ideally near a window to get the best reception of the 4G signal.
If you are using your ISP's router as your Internet connection, plug an Ethernet cable into Port 2 (marked "••") to connect your VeeaHub to the Internet.

Connect the other end of the ethernet cable to your Internet Service Provider's router.
---
Power up
Insert the plug appropriate for your country into the power adapter. To remove, pull the plug upward while pushing the button.
Plug one end of the power adapter provided into your VeeaHub, and the other end into the outlet. As soon as you plug it in, the VeeaHub will power on. You don't need to press the Power button.
---
Activation
The Power light will turn on and the Status light will blink as your VeeaHub is getting started. If you'd like to learn more about the LED lights, click here.
When activation is complete, the two lights will be solid green and the logo on the top of the VeeaHub case will be solid blue.
If you are using the cabled connection, activation will complete within 30 minutes. With the cellular connection, allow 45 minutes for activation.
If activation does not complete, contact the person who ordered your vTPN service. If you ordered directly from Veea, contact us at (+1) 855 488-7332 or https://veea.com/support
---
Connect devices
After you have activated your VeeaHubs and your mesh setup is complete, you can connect your laptops, printers, phones, and other devices to your VeeaHub.
Check the VeeaHub Wi-Fi name (SSID) and password that was sent in your confirmation email.
Follow the instructions that came with your device to connect it to the VeeaHub Wi-Fi.
---
Wireless WAN Backup
If you are using the cabled connection to your ISP as your main Internet access, the unit will automatically switch over to cellular connection if the ISP connection fails and Internet service is lost. Internet access will continue over cellular as long as necessary.
When the primary service is restored, the service automatically switches back to it.
---
Please note
To turn off your VeeaHub, briefly press the power button and let go. It will take about 30 seconds before you see all the lights go off.
After that, if the VeeaHub is connected with the power adapter and turned off, press the Power button to power it back on.
---
Troubleshooting
If you are having problems with your VeeaHub:
Make sure the power adapter is plugged in and the power light is on.
Make sure the Ethernet cable is plugged in and the VeeaHub can connect to the Internet.
Check the status light. If the V-logo light on the top of the unit is not solid blue, it might mean that your VeeaHub is booting up, updating its software, and/or still installing.
Restart your VeeaHub. Unplug from power for 30 seconds and then plug it back in.
If the above steps didn't resolve the issue, reset your unit by pressing the Reset button for 12 seconds.
If the problem continues, contact the person who ordered your vTPN service. If you ordered directly from Veea, contact us at (+1) 855 488-7332 or veea.com/support